Do You Want To Live Beyond Your Wildest Dreams?
That's exactly what you can expect from being in The Realm!  A members only club exclusively for women, where you are free to be braver, bolder and bigger than you ever thought you could.
Expect The Unexpected!
Explore!  Discover!  Learn!  Take Chances!  Make Choices!  Be Surprised!
Defy Ordinary!
Join our creative revolution  ~

Create the life you have always imagined, where you are free to be your authentic, unique, creative, sensitive, and inspired self.
Learn to live a Cultivated Life ~ a rich, thoughtful, clear, and satisfying life!
Be Part of Something Bigger!
Wouldn't it be lovely to be a Member of a private club full of smart, creative, and sensitive women just like you.
Wouldn't it be an added pleasure to join other women who also want to live a 'cultivated life'.
Wouldn't it be the icing on the cake if your membership cost you absolutely nothing!
Wouldn't it just be pure bliss to live the life you always dreamed of!
Darling…Your free membership awaits you!
Our membership is worldwide and offers the highest quality mentoring and support from all the other members, as well as yours truly, The Burnout Queens!
When you belong to The Realm…
You will have continuous access to a beautiful, safe, & private community based in friendship, support, and guidance  ~  a place where you can gain the knowledge and wisdom to go from burnout to balance to bliss!
As part of the Realm you will receive…
The Burnout Queen's Desiderata, a philosophy to motivate and inspire you each and every day.
Weekly encouragement in the form of an inspirational postcard message from The Burnout Queens.
Homework!  Yes that's right, a weekly Tip, Tool, or Lifestyle Practice delivered to your inbox and posted on your private F/B group page.
A personal invitation to join our exclusive 'The Realm' Facebook group where you can share your journey with other like-minded, creative, sensitive women from around the world.
VIP invitations to Afternoon Tea Parties a monthly discussion and Q & A with The Burnout Queens.  So put the kettle on and get ready to talk about everything your mother never taught you about burnout, finding equilibrium, and embracing bliss!
Exclusive announcements & time-sensitive discounts to new events, offers,  and programmes before they go public…just because we feel like giving them to you!
Many more resources and bonuses as we go.  We believe in sharing the wealth!
The Realm!…our free (yes free) club where lovely women like you are encouraged and inspired to take simple, practical, everyday steps towards creating a beautifully cultivated and harmonious life.  What are you waiting for my Darling?
Your Inner Queen is waiting to shine!
Sign up right here!
Wait, before you go!  Wouldn't you love your girlfriends, sisters, mother, grandmother, aunties… to join The Realm with you?  The more the merrier!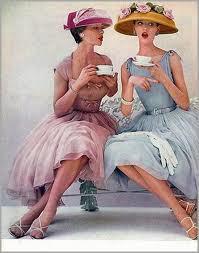 It's free to them as well, of course, so if you think this experience would be double-the-fun with those you love, by all means extend this invitation to them with our love!
The Burnout Queens declare… the more women living cultivated lives, the better our whole world becomes!
So, no more waiting!  See you in The Realm!
Love,

The Burnout Queens