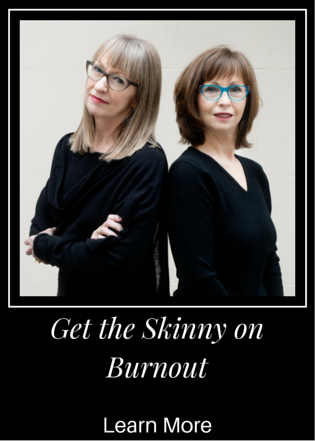 So you are wondering why you need to know the basics about burnout.   Well, here's the shorthand… if you don't you will end up repeating the same burnout pattern over and over again.  Now that is totally discouraging!
You can try lots of different ways to lower your stress, feel more energised, and get your inspiration and motivation back, but if you are burning-out you just end up feeling more and more frustrated and stuck in your life…not to mention exhausted and stretched even thinner.
You don't have to live like this…
'Get the Skinny…' is your first step to living a burnout-free lifestyle forever!  Yes, we said forever.
Here's what you get:
Three videos (mp4 format) full of fabulous information delivered The Burnout Queens' way!
Video 1:  You Don't Have to be a City Girl to Burn Out (14:05 mins)
Burnout is not about juggling the 'stuff' of your life.   In Video 1 you will find out what burnout really is, what it feels like, and why it happens to ordinary (well we prefer extraordinary!) women just like you.  We will answer the question, "Why does being smart, responsible and highly sensitive leave you particularly prone to burnout?"
Video 2:  The One-Minute Fairytale:  A New Twist on the Phases of Burnout (23:38 mins)
"Once upon a time"….the 4 phases of burnout are explained in The Burnout Queens' own unique, humourous and poignant style.
See how and why your beliefs, attitudes and actions can lead you straight to burnout.  Then get practical, easily applied tips and techniques to take small achievable steps and gain a new rhythm in your life.
Video 3:  Let's Get Clear!  Is it Stress, Burnout or Depression? (17:41 mins)
We often hear women say 'Everyone lives with stress so what's wrong with me that I can't cope'.  Others worry, 'My life feels so bleak, I must be depressed'.  We will clearly define  how, when and whether these 3 experiences relate to one another.  Knowing the difference between stress, burnout and depression will have a huge impact on how you live a burnout-free lifestyle.
With your 'Get the Skinny…' masterclass you will also receive:
PDFs of the power point presentations that accompany the videos
The Burnout Queen's quiz:  Am I Burned Out or Just Slightly Overdone?
The Simple Symptom Check-list so you can get on top of any, or many, niggling burnout symptoms
Must-have strategies and exercises so you can begin to bounce-back from exhaustion immediately!
Plenty of sanity-saving inspiration to get you dreaming again!
This Essential is specially priced at £19.99 (approx $30USD)
So kick off your heels, put those tired feet up and get a quick start with  Get the Skinny on Burnout.  Take your first step to becoming a Burnout Queen… strong, resilient, enthusiastic, and powerful.  What's not to love about that?
£19.99 (approx $30USD)
Get the Skinny on Burnout is a digital product. After you complete your payment, you will receive an email with immediate access to the masterclass content.
P.S. Because we believe 100% in this masterclass and it's message, and we have taught hundreds of women these secrets and they tell us how it makes a positive impact on their lives, we would like to make sure you understand before you purchase that there are no returns, no refunds, and no exceptions.